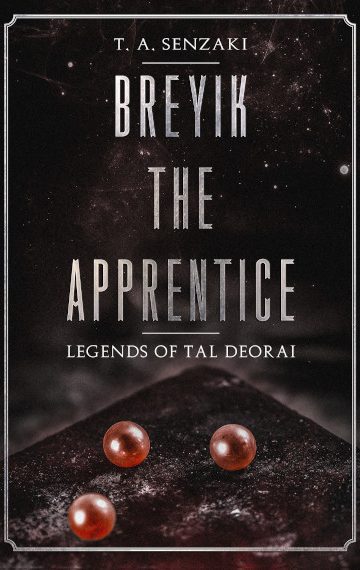 $0.99
Publisher:

Travis Senzaki

Available in:

All ebook formats

Published:

1 September, 2020
Buy on Amazon
Buy on Google Play
All Other Stores
A destined prodigy. A legacy to exceed.
One test stands in his way.
The orphan of master artificers faces his parents' teacher with his future in the balance.
Breyik cannot stand being held back any longer. The Journeyman Project is his chance to break free of the menial tasks of an apprentice, to prove himself ready to create his own Devices, the powerful artifacts that are the soul of progress and wealth in the Irongate Kingdom. He has poured all of his studies and efforts into his project, and if – when – Master Takkri approves, he will activate it and take a step closer to his destiny.
But knowledge, skill, and meeting every expectation might not be enough. Master Takkri is about to turn everything Breyik knows about his world on its head.
Welcome to Tal Deorai
Since the cataclysmic end of the Golden Age of Ma, the survivors have struggled to build kingdoms and recover the lost powers of the archmages. But the problems of trust and balance that brought down the ancient city survive among its exiles. Paranoid kingdoms and secret powers clash in this world of high fantasy.
The underground Irongate Kingdom was once an exception. Its trade in Devices – both of war and peace – kept the powers of the Outside kingdoms balanced. Then came the Greed War. Now, Irongate is isolated and weapons are taboo among Devicers. But, like the Lost City of Ma, itself, no fount of power is ever forgotten. Old barriers are set to fall and Breyik's Journeyman Project is the first crack in the cave wall.
Breyik the Apprentice is your introduction to the world of Tal Deorai, where kings seek power in rare artifacts, enchanted warriors, and occasionally even the forbidden powers of magic. But some powers are more than just tools. Some have minds of their own.
Start reading Breyik the Apprentice now and sink into the world of Breyik, Devices, and Tal Deorai.