For the first time in a decade or so of being sent on work trips, I finally visited a city that I'd want to go back to. I was in Prague for business (EAIE 2014!), but I still managed to have some fun, and to stumble on the truth shattering a long-held family belief. Hint: It has to do with the Polka.

Usually, I come home remembering only the bad parts of my trips- fighting with a cabby in Hanoi, having to wear a mask constantly in Beijing because of the pollution, or being shot at in Qalat, but this time I have nothing but good things to say about Prague.
From the time I landed, despite having gone about 30 hours without sleep, I was pleasantly surprised by the city. The network of buses and trains was far simpler to navigate than google maps made it out to be, and the staff at the airport transportation desk were helpful without trying to sell me anything that I didn't need. I've gotten used to having to dodge taxi touts and baggage porters in airports, but there was none of that here, just a smiling woman who got me the tickets I needed and circled all the stops and transfers I needed to get to my hotel. Like my only other experience in European public transportation, though, the tickets were for my peace of mind, only. You purchase tickets from the vending machine (usually), stamp them yourself at the station when you walk in, and nobody ever asks to see them. Although, I have been told that there can be a nasty penalty if inspectors catch you without one.
But really, when a 90-minute free transfer ticket costs about $1.50 and an all-day pass goes for $5, there's no sense in risking it.
Prague is one of those postcard-style European cities, with partially cobbled streets (at least where the trams run), and the typical row of buildings rising on both sides, which makes you feel as if you're constantly in a canyon. For my first day, my goal was only to make it to a grocery store and my hotel.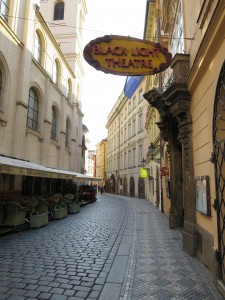 Actually, if I have one complaint about Prague, it was the hotel's amenities. Maybe my expectations are skewed coming from Japan, but when a hotel bills itself as being a "business hotel" I expect it to have the amenities a man on business would need- such as basic toiletries in the bathroom and, if not coffee, then at least drinking water in the rooms, or somewhere in the hotel. This place had none of the above (or air conditioning, for that matter). They had a "welcome drink" of tonic water in my room, though there was a distinct absence of the corequisite gin. What's the point of tonic without gin? Weird.
I ended up having to go to the grocery store for water (where I unfortunately purchased another 2 liters of tonic water- damn not being able to read the language), toothpaste, and, of course, some Czech beer.
The beer. Of course, that's what the Czech republic is famous for, but don't let them trick you into drinking that Pilsner Urquell stuff. One, you can pretty much get it in any other country, so it's nothing special, and two, it's Pilsner. Get a dark beer. The Czech dark beers were delicious. Thanks to the conference's constant parade of evening "networking events", several of which were held in brew pubs, I had a chance to sample quite a bit, and it was never disappointing. The food was pretty good, too. I've gotten used to Japanese-sized portions, so it seemed like there was an awful lot of it, especially meat and potatoes. I recall one dinner where my colleague ordered a schnitzel on a bed of potato salad, and I think there might have actually been enough potato on his plate to lay down on and take a nap- at least 3-4 good-sized potatoes in there! I have no idea how he finished it, though he confided the next day that he had no plans to eat potato salad again for the rest of the year.
On the other hand, I don't think there's a Czech word for "vegetable".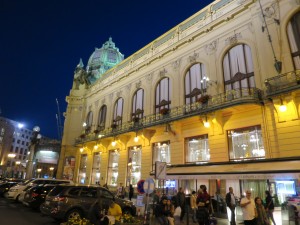 For most of the week, I was stuck inside the conference hall, attending meetings with our partner universities and prospective partners, or attending a few lectures on marketing and web design. They were surprisingly good, and the meetings went well, too, but I was mostly excited to get out of there at the end of the day to see a little more of the city.
On the first night, we started with the "Newcomers' Networking Reception" at the Municipal House, a gorgeous old building that was not nearly so easy to find as the conference program claimed that it would be, but worth it all the same. "Just go out of the subway, and you can't miss it." Sure, if you pick the right exit and don't end up two blocks away (see above: damn not being able to read the language). Ah well, accidental sightseeing. And it was worth it. The Municipal House is in the centerish of the old town, with a series of grand buildings best viewed when you're not late and lost. Inside, the building was even more beautiful, though none of my pictures came out, unfortunately. There was a string quartet and waiters wandering around passing out wine. I felt like I ought to have been wearing a powdered wig.
I need to figure out where I can get a hold of one of those. I imagine it would be a killer networking icebreaker.
On the second night, we attended a reception for a Dutch university where the waiter got a nasty shock when we all switched seats after ordering (that is what you get for bringing us all drinks for an hour before even taking the food order!) and I got an equal one, as well. After the switch, I ended up at a table that included a woman from a Polish university who destroyed a closely-held family belief.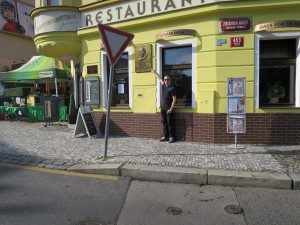 Now, if you're family, you probably all know this, but for the rest- my family is Polish on my father's side, and part of that means that we played the polka at every family wedding, at least in my dad's generation- specifically, the Beer Barrel Polka. Got that? Good.
Now, here comes this Polish woman telling me that the Polka is not Polish. It's Czech. Well, I had to have another herbliquor drink to calm down after that one, but I promised myself I wouldn't believe it until I got some confirmation from a reliable source, like Wikipedia. Well, the next morning, Wikipedia confirmed it. Not only that, but the composer of the Beer Barrel Polka was born in Prague, himself. (Though, as some consolation, Polka is apparently Czech for "Polish Woman" and it was Polish refugees who made it popular in the US.) Of course, this meant that I had to go visit his house, if it was the only sightseeing that I got to do. It was about an hour outside the city center, which made for a silly use of time, as I only had one morning to sightsee before my flight out, but dammit, I wasn't going to let this opportunity pass by. I will go back to Prague with my family, I will see the castle and the Baroque Library inside the Karmelitska. If I missed this chance to go take a photo of Jaromir Vejvoda's home, I'd probably never get another.
So that's what I did- I rode an hour out, snapped 5 photographs including one selfie (I'm not proud of it, but it happened), then took the bus an hour back.
I did get to see the Charles Bridge, and walk around the Old Town a bit, too. Just enough for a teaser to make sure I go back. Besides, there's still the beer!