Breyik the Apprentice is Available Now!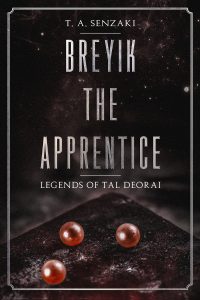 Get it now on the e-book store of your choice!
What it's About
Raised in Kobi society, where skill in Devicing is valued over all things, young Apprentice Breyik is determined to outdo his long-dead parents and become the greatest in history, but one man stands in his way. Master Takkri must judge him ready.
Breyik has a plan that cannot fail. He will meet any challenge, achieve any goal put before him.
But Master Takkri is not about to make it that simple.
Description
What if you spent your whole life preparing for one moment, one crucible, only to find when you got there that the rules weren't what you expected?
Breyik tells the story of a young man (actually a young "kobi", a subterranean race in Tal Deorai that has closed itself off from the outside world, but I digress) living in the daunting shadow of his parents' legacy. As he takes the first step in pursuing the destiny that has been laid in front of him since birth, he encounters a hard lesson on living life to the expectations of others.
Sound like your kind of story? You can pick it up here!
Print, Ebook, or Both
Both print and electronic versions are available on all Amazon stores, with ebooks available everywhere else. There are also a limited number of signed paperback editions that you can order here, or by clicking the button below.

Buy the signed print edition!
Special Launch Discount
The launch discount price has ended, but if you want to know about future sales – and want to make sure you never miss a launch special again – sign up for my email list below!

Until next time, happy reading!
– Travis